Ciara Slattery came up with a very special way to raise funds for ILFA in memory of her Nanny, Elizabeth Flanagan. We are hugely grateful to Ciara for her kindness and support. Read about Ciara's fundraising activites in this report …
"On the 6th of February 2020, my Nanny, Elizabeth Flangan, passed away after many months battling with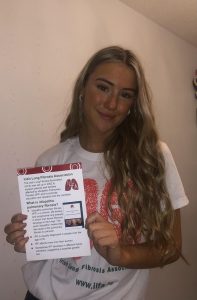 Pulmonary Fibrosis. While I think Christmas is a time filled with unbelievable joy, I also believe it is a time when people think about loved ones who have passed on. I have worked in my local pub for 2 years now and in past years any tips made in the month of December would be spent on materialistic things. However, this Christmas I found myself thinking about my Nanny and what could be my gift to her this year. My family and I witnessed first-hand the effect Pulmonary Fibrosis has on people and how it can change everything. Seeing what Pulmonary Fibrosis does to a loved one would make anyone want to help in any way they could, that's why this Christmas I have decided to donate any of my tips made in December to the Irish Lung Fibrosis Association.
While there is no cure for Pulmonary Fibrosis, the ILFA is constantly supporting families who have loved ones diagnosed with Pulmonary Fibrosis, they spread information about this disease that is not well known by many people and most importantly they are there for the people who have been diagnosed themselves.
My Nanny Betty will never be forgotten by anyone who has met her. She was always filled with joy, constantly felt the need to help and care for others and never put herself before anyone.
This is for you Nanny, Merry Christmas,
Love Ciara x"