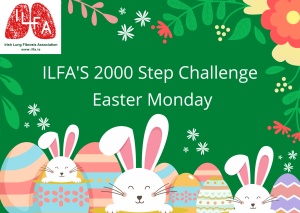 ILFA's 2000 Steps Extra Challenge will take place on Easter Monday 10th April.
We're asking everyone to go for a walk or run from your home and commit to take 2000 steps extra (one mile more) to help raise awareness of lung fibrosis and funds for ILFA.
If you would like to take part in the ILFA 2000 Steps Extra Challenge on Easter Monday, you can register by emailing info@ilfa.ie for your neck warmer and poster.
Remember to send us a photo of your virtual walk so we can share images and raise awareness.
You can donate securely online to the 2000 Steps Extra Challenge via the following links