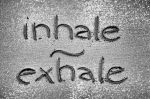 Join Eimear Bell, Respiratory physiotherapist, for an online session entitled "Let's Talk Breathing Techniques" for pulmonary fibrosis patients.
Eimear will give a presentation on breathing techniques that will be followed by a Questions and Answers session.
Please submit any questions you may have in advance and Eimear will do her best to answer them in the allotted time. The meeting will take place via Zoom and we can provide you with assistance if necessary.
Please email info@ilfa.ie or call 086 871 5264 or 086 057 0310 to register to attend.