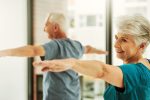 The Irish Lug Fibrosis Association (ILFA) is delighted to announce a new 6-week series of online yoga classes with Michael Darragh Macauley.
The classes will start on Friday 11th November at 10.30am via Zoom.
Please register in advance to join the class by emailing info@ilfa.ie or calling 086 871 5264
The class is free to all members registered with ILFA.
Namaste!