ILFA is delighted to announce a new, free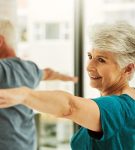 yoga course for lung fibrosis patients and carers delivered by Michael Darragh Macauley, who is a qualified yogi.
The 8-week programme will take place every Wednesday at 10.30am starting on 22nd June.
The classes will include breathing and stretching exercises, physical moves and meditations carried out in standing and seated positions. Time will be allocated at the end of each session for peer support and a chat.
This exercise initiative is supported with a much-valued grant from Age & Opportunity and Sports Ireland.
To register to attend the course, please email info@ilfa.ie or call 086 871 5264 by Monday 20th June 2022.