Breathe easier in 5 simple steps
The ILFA STALL Card is designed to be carried in a wallet, purse or pocket and it has simple instructions on how to control your breathing if you experience an episode of breathlessness. Show this card to your caregiver / companion so that they can help you if you have breathlessness.
ILFA STALL breathing technique (attached)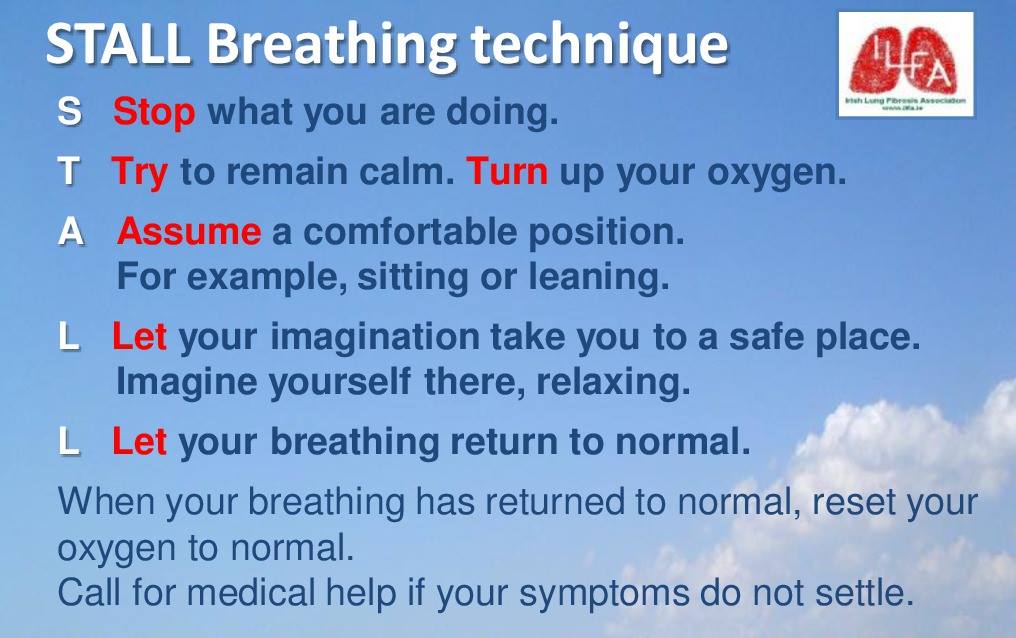 (S) Stop what you are doing
(T) try to remain calm and turn up your oxygen if necessary
(A) Assume a position of comfort for example sitting, leaning forward against furniture or a wall, resting your shoulder against a wall for support
(L) Let yourself daydream and imagine yourself in a safe, relaxing, tranquil place
(L) Let your breathing return to normal
Contact ILFA by emailing info@ilfa.ie or calling 086 871 5264 to request your STALL breathing technique card.
Patients who use oxygen can request an ILFA Medical Alert Card for their wallet, purse, bag or oxygen carrier. The Medical Alert Card should be completed by patients and contains information about your healthcare team and your oxygen company in case this information is needed in a medical emergency.
Contact ILFA by emailing info@ilfa.ie or calling 086 871 5264 to request your Medical Alert Card.
3) Hand-held fan 
A hand-held fan, used to generate a flow of air across the face, is a simple and safe device that can help improve the sensation of breathlessness for patients with respiratory conditions.
ILFA's hand-held fans are now available for patients, respiratory nurses and physiotherapists to order free of charge. Contact ILFA on 086 871 5264 or email info@ilfa.ie
 Therabands (Exercise stretch bands)
Therabands are thick elastic bands with inbuilt resistance that can be incorporated into an exercise programme whereby stretch movements can help strengthen muscles. Contact ILFA if you would like a request a theraband.