2000 Steps Extra for ILFA!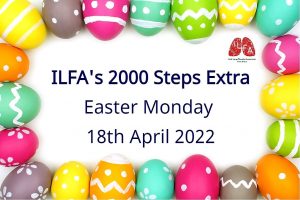 ILFA is delighted to announce that our annual event "Easter Monday 2000 Steps Extra for ILFA" will take place virtually on Monday 18th April, 2022. We need patients, carers, family members, healthcare professionals, industry supporters to participate and commit to taking at least an Extra 2000 Steps (1 mile more) to raise awareness of pulmonary fibrosis and raise funds to support ILFA's work.
You can take part from anywhere – in your garden, indoors from your home, outdoors etc. The important goal is to step it out for your health!
Please contact ILFA if you would like to sign up for this walking/running challenge and we will send you a special fundraising pack. Remember to take a photo and log your step count with us! We'll have fun counting the total steps taken to see how far we reach!
Contact ILFA on 086 871 5264 or email
info@ilfa.ie
for more information