A 100km Motorcycle Ride Out in aid of ILFA will take place on Sunday 15th May 2022.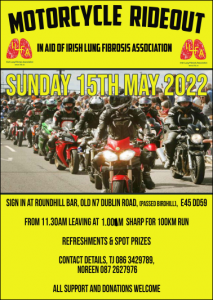 Sign in at Roundhill Bar, Old N7 Dublin Road (past Birdhill) , E45 DD59 from 11am. Leaving at 1pm sharp.
For more details please contact
(1) TJ on 086 342 9789 or (2) Noreen on 087 262 7976
Thanks to all the organisers and participants for their great support.