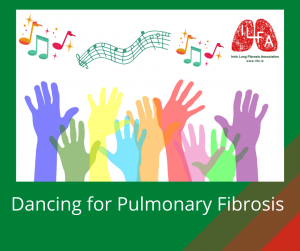 Dancing for Pulmonary Fibrosis is a new dance exercise and wellness initiative from ILFA in collaboration with Dr. Vikram Niranjan, UCD School of Public Health, Physiotherapy and Sports Science, and Tracey Barnes, Dancing for Health CIC, UK.
Classes will take place every Tuesday at 2pm via Zoom from 26th April until 14th June. Classes will last 75 minutes and will include seated/standing exercises to music and a social component.
If you would like to take part in the classes please email info@ilfa.ie or call 086 871 5264 by15th April.
"Dancing for Health and wellbeing: A feasibility study of examining health impacts of dancing among lung fibrosis patients" is funded by an Irish Research Council New Foundation 2021 Award.