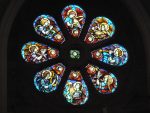 The ILFA Service of Prayer and Reflection will take place on Saturday 15th October at Our Lady of Mount Carmel Whitefriar Street Church, Aungier Steet, Dublin 2 at 4pm. Please let us know if you plan to join us so we can organise numbers for some light refreshments afterwards.
During the service, we will light candles for those patients whose names have been submitted to ILFA by family members. Please email info@ilfa.ie or call 086 871 5264 by 7th October if you would like your loved one remembered.
The service will be live-streamed and available to watch via the church website www.whitefriarstreetchurch.ie, for those who cannot attend the church in person.
If you cannot attend, we encourage ILFA members to come together virtually as a community and light a candle in their home at 8pm on the evening of Saturday 15th October to support or remember loved ones affected by lung fibrosis. You can send your photos to info@ilfa.ie if you would like to share your images.