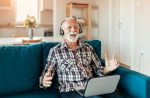 ILFA is pleased to announce the start of a new 'Sing Strong for Pulmonary Fibrosis' class with Ciara Meade, Choir Mistress,
The classes will take place every Wednesday at 12.30pm starting on 21 September for 12 weeks. The online class is free of charge to lung fibrosis patients registered with ILFA. No singing experience or even a good singing voice needed.
All are welcome to this fun, sociable and beneficial class.
Email info@ilfa.ie to register.