The ILFA Service of Prayer and Reflection will take place at Our Lady of Mount Carmel
Church, Whitefriar St,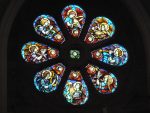 Aungier Street, Dublin 2 on Saturday 15th October at 4pm. We are delighted to return to an in-person  event and look forward to welcoming our guests. The service may also be live-streamed (to be confirmed).
During the service, we will remember those who have been lost to lung fibrosis with the lighting of candles. If you would like your family member included on the remembrance list, please email info@ilfa.ie with the person's name and the year they passed away if known. Please note that all names must be submitted before 1st October 2022 and we will not automatically include names from previous years.
We hope you will join us in Dublin for this uplifting community event.