Exercise is the Best Medicine
Exercise is vitally important for lung fibrosis patients and ILFA's exercise resources encourage you to exercise safely while taking your health limitations into account.
Speak with your respiratory nurse specialist, physiotherapist, and doctor for more information about the benefits of exercise and how to get started.
ILFA's Exercise Resources

Some of ILFA's exercise resources are included below. These are available free of charge to lung fibrosis patients and healthcare professionals working in respiratoy medicine. Please contact ILFA to request our free resources.
 ILFA Therabands for performing stretching exercises
Online Exercise Classes with ILFA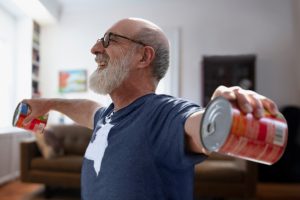 ILFA's online exercise classes for lung fibrosis patients take place weekly on Monday, Wednesday and Thursday via Zoom. The classes are free of charge to all lung fibrosis patients who are registered as members with ILFA. The classes are led by a Respiratory Physiotherapist. Please register in advance to receive safety information and advice for the classes. Email info@ilfa.ie or call 086 871 5264 to join the class. We look forward to seeing you!
Click here if you would like to know more about using Zoom. If you have any questions about using Zoom to join the classes, please get in touch and we will talk you through the process.
Watch the ILFA Videos
ILFA Exercise Video for Lung Fibrosis Patients
ILFA Yoga Video for Lung Fibrosis Patients
ILFA Exercise Video in collaboration with University Hospital Limerick
Back to Living Well